Dean's profile: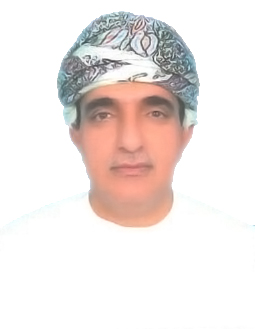 Dr. Abdullah Saif Al-Tobi, the Dean of the College of Arts and Humanities at ASU, holds a PhD degree in Science Education in 2002 at the University of Warwick in United Kingdom, and a master's degree at Yarmouk University in the Kingdom of Jordan in 1995 in the same specialization, and a bachelor's degree of Education in Biology at King Saud University in Saudi Arabia in 1988. He also has a certificate in studying English as academic language from Language Center in University of Leeds in the United Kingdom in 1999, and a certificate of educational guidance; science / biology from the Ministry of Education, in the Sultanate in 1993. In addition, he joined more than 20 training courses inside and outside the Sultanate. He has experience of 24 years in institutions of higher education in the Sultanate as well as 7 years of experience in education. He worked as Dean of the College of Science and Arts, Associate Professor at the University of Nizwa, Director General of the Colleges of Applied Sciences at the Ministry of Higher Education, Dean, Assistant Dean of Academic Affairs, Associate Professor and Associate Professor in the Colleges Applied Sciences. During his work, he taught many courses at the Master and Bachelor level. He also worked as a teacher and supervisor of Biology in the Ministry of Education; in addition, he carried out some administrative tasks during his work at the Ministry of Education.
His research interests are in many educational fields including: the development of educational programs and curriculums, the preparation of science teachers, effective teaching methods, environmental education, educational values and the role of activities in promoting science education and Citizenship Education, where he published scientific research and participated in many conferences and scientific seminars. He has more than 40 works of research publications to his credit as well as organizing and chairing several conferences and seminars during the period of his work, both in the Ministry of Higher Education or University of Nizwa. He also participated in several conferences and seminars inside and outside the Sultanate and chaired some scientific sessions. He received funding with an amount of RO 71,900 for a research project from the Scientific Research Council in the Sultanate, "Citizenship Education in Higher Education Institutions in the Sultanate of Oman ".
He supervised and designed a number of master's and bachelor's programs. In addition, he designed many courses, developed and updated a number of programs and courses. He evaluated a number of undergraduate and master's programs for universities within the Sultanate. He also supervised many doctoral and master theses. He is a member in many of the scientific, research, executive, advisory, administrative and technical committees inside and outside the Sultanate. He participated in the supervision and planning on many programs and activities that serve the educational institutions, students and the local community.