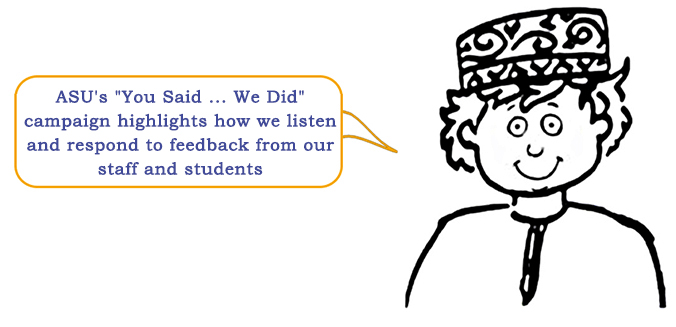 You said

We did

We want measures to help reduce hygiene issues during the COVID-19 pandemic.
1- We have fixed automatic dispensing machines for sanitiser in each building.
2- Awareness banners were distributed to all buildings.
3- Physical distancing stickers were afixed to all facilities
We need the availability of adequate medical provisions in the clinic.
The clinic is equipped with all the required needs as a primary health service
We need a formal letter to collect information and distribute our questioner.
We prepared an advance letter to be able to collect the required information easily.
We need to know how to access the MBA rules & regulations while writing our dissertation.
We established a page on Moodle that contains all MBA rules and regulations & the templates used to write the dissertation.
We need to study all three MBA courses on Saturdays due to the time conflict with our work.
We offered a special section for 15 weeks where the 3 courses were studied on Saturdays.
We need an offical internship letter with a college stamp for the workplace.
We sent the requested letter to the students by emails.
We need COBA study plans to check on our courses.
We established a dedicated folder in Shared for COBA study plans.
We need to promote and market our own projects through social media channels.
We have created a website in the name of the ASU Bazaar, which aims to market the services and projects of students and graduates.
We need to diversify the workshops and programs offered by the Career Guidance section.
We have diversified the workshops and programs required by students to develop their skills and abilities for the labour market .
We need to change the workshops that are organised in the morning to evening time.
We have changed the schedule of workshops to suit most students, and they often take place in the evenings.
We need a variety of programs from to be offered by the Student Affairs department at reasonable times.
We conduct a variety of programs, including forums, in the evening throughout the academic year.
We need developmental programs for activity leaders.
We conducted training programs for activity leaders that facilitate their skills growth.
We need a platform for the Student Support Team to ease communication with students on various plarforms.
We created a special account for the Student Support Team to ease the communication with all ASU students and to deliver their services more effeciently.